Obtaining safe passage for aid to reach Mariupol and civilians to get out has been Kyiv's main demand at several rounds of talks. All previous attempts at a local ceasefire in the area have failed.
Drone video footage released by Ukrainian forces in Mariupol showed a desolate wasteland of bombed out buildings, many in flames, with smoke pouring into the sky.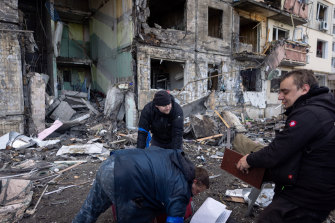 China's role
Top advisers to Presidents Joe Biden and Xi Jinping met in Rome on Monday night (AEDT) to discuss China's support for Russia in its invasion of Ukraine, even as the Kremlin denied reports that it had requested Chinese military equipment to use in the war.
The meeting occurred as Russia and Ukraine kept a fragile diplomatic path open with a new round of talks even as Moscow's forces pounded away at Kyiv and other cities across the country.
US national security adviser Jake Sullivan and senior Chinese foreign policy adviser Yang Jiechi spoke, with the Biden administration increasingly concerned that China is using the Ukraine war to advance Beijing's long-term interest in its competition with the US.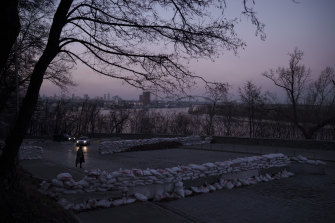 Sullivan was seeking clarity on Beijing's posture and was warning the Chinese anew that assistance for Russia — including helping it avert sanctions imposed by the US and Western allies — would be costly for them.
"I'm not going to sit here publicly and brandish threats," Sullivan said as he made the rounds of Sunday news shows ahead of his trip to Rome. "But what I will tell you is we are communicating directly and privately to Beijing that there absolutely will be consequences" if China helps Russia "backfill" its losses from the sanctions.
Russia and Ukraine's latest negotiations, which were held via video conference, were the fourth round involving higher-level officials from the two countries and the first in a week.
The talks ended without a breakthrough after several hours, with an aide to Ukrainian President Volodymyr Zelensky saying the negotiators took "a technical pause" and planned to meet again Tuesday.
The two sides had expressed some optimism in the past few days. Mykhailo Podolyak, the aide to Zelensky, said over the weekend that Russia was "listening carefully to our proposals." He tweeted Monday that the negotiators would discuss "peace, ceasefire, immediate withdrawal of troops & security guarantees."
air raids
Air raid alerts sounded in cities and towns around the country, from near the Russian border in the east to the Carpathian Mountains in the west, and fighting continued on the outskirts of Kyiv. Ukrainian officials said Russian forces shelled several suburbs of the capital.
Loading
Ukrainian authorities said two people were killed when the Russians struck an airplane factory in Kyiv, sparking a large fire. The Antonov factory is Ukraine's largest aircraft manufacturing plant and is best known for producing many of the world's biggest cargo planes.
Russian artillery fire also hit a nine-story apartment building in the northern Obolonskyi district of the city, killing two more people, authorities said. Firefighters worked to rescue survivors, painstakingly carrying an injured woman on a stretcher away from the blackened and smoking building.
And a Russian airstrike near a Ukrainian checkpoint caused extensive damage to a downtown Kyiv neighborhood, killing one person, Ukraine's emergency agency said.
In the southern city of Mariupol, where the war has produced some of the greatest suffering, the city council didn't say how many people were in the convoy of cars headed westward for the city of Zaporizhzhia. But it said a cease-fire along the route appeared to be holding.
A pregnant woman who became a symbol of Ukraine's suffering when she was photographed being carried from a bombed maternity hospital in Mariupol last week has died along with her baby.
The number of refugees fleeing Ukraine since Russia invaded on February 24 climbed to more than 2.8 million, United Nations data showed on Monday, in what has become Europe's fastest growing refugee crisis since World War II.
AP, Reuters
Get a note direct from our foreign correspond on what's making headlines around the world. Sign up for the weekly What in the World newsletter here.