"We sat in the car afterwards and I said, 'Did we miss something? an officer testified Thursday. 'And no. There was nothing, legally, that we could have (apprehended) him'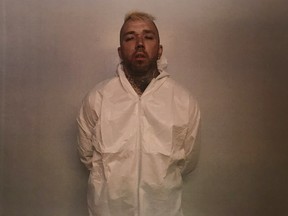 Content of the article
Warning: This story contains disturbing details, including references to suicide, domestic violence, and child abuse.
Content of the article
A psychiatric nurse and two police officers who assessed David Moss hours before he killed a seven-year-old girl testified Thursday that Moss showed no signs that he was in imminent danger.
Registered nurse Felistas Takawira of the Edmonton Police and Crisis Team (PACT) attended Moss' home with two officers on the afternoon of May 18, 2020 – the same day Moss attacked and killed Bella Rose Desrosiers in her home. The girl's mother had brought Moss there with the intention of taking him to hospital, fearing he might be suicidal.
Moss says he is not criminally responsible for Bella's death, claiming he killed her in a psychotic state related to brain damage.
Edmonton man charged with murdering seven-year-old girl asks judge to find him not criminally responsible

'Swearing and screaming…why?': Mother of slain seven-year-old takes a stand in David Moss murder trial

Edmonton man who killed seven-year-old girl testifies in his own defense
PACT pairs officers with mental health professionals to respond to people in crisis and help them connect to resources – or, if they pose a threat to themselves or others, they can be apprehended under Alberta Mental Health Act.
Content of the article
The three PACT members spent about an hour with Moss that day, and all said they saw no cause for apprehension.
Takawira, who has more than 20 years' experience as a psychiatric nurse, said PACT became involved after Moss' wife reported he was behaving "oddly" and made death threats. The court previously heard that Moss also threatened to kill his wife, and she and their four children were staying elsewhere.
The nurse testified that when she spoke with Moss, he described an "awakening" he had had five days earlier, which she believed was likely a psychotic episode.
"He described seeing all kinds of images and signs everywhere during the awakening. According to my report at that time, he said he had come back to reality and no longer had these experiences.
Content of the article
Takawira said Moss said he was stressed about his marital issues, but he was cooperative and calm during their conversation, and he didn't seem to have paranoid thoughts or active psychosis.
"He told me he was stressed, upset and scared… We talked about having chronic feelings of loneliness, wanting to stay positive but being scared."
Moss said his thoughts about hurting his wife were limited to her "waking up," and that was it.
EPS Const. Natasha Brinkmann said she didn't see any red flags either.
"He was very lucid, and he downplayed the whole situation, led us to believe he wasn't going to hurt anyone," she said, describing Takawira's assessment as "excessively thorough" and the nurse specifically asked if he was going to hurt her family members.
Content of the article
"He said, 'No, I would never hurt my children, I would hurt myself before I hurt my children.'"
Asked by the Crown if she had any security concerns about Moss, Brinkmann replied: "Unfortunately, no."
"We sat in the car afterwards and I said, 'Did we miss something? And no. There was nothing, legally, that we could have (apprehended) him.
The evaluation ended with Takawira making an appointment for Moss to see a psychiatrist that afternoon. An acquaintance who had come to the house earlier in the day to check on Moss agreed to drive him there.
But after PACT left, the man testified that Moss accused him of being "negative" and told him to leave, that he didn't want to go on the date after all.
The trial is due to continue on Monday.
masmith@postmedia.com