Join us in the comments section at the bottom of this story and tell us about COVID-19 Wednesday at noon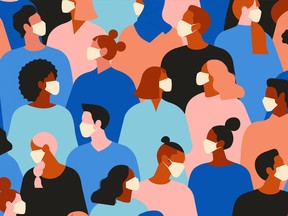 Content of the article
Editor's note: This is the first in a series of six interactive sessions that we will be hosting over the coming weeks. We want to give you the opportunity to meet the journalists who work in our newsroom and talk to us one-on-one. We look forward to hearing your questions!
Content of the article
We are heading into our third pandemic summer, and yet the virus looms over our health and well-being. At this point, you most likely know someone who has been infected with the virus or you have tested positive yourself.
The current wave is not over. Last week, Ottawa Public Health said levels of COVID-19 in lab test results and sewage are still high in the capital, but are slowly declining. And yet, with warm weather here and a widespread desire to get back to normal, navigating the risks of COVID-19 is still confusing.
That's why on Wednesday, May 18, we're hosting an Open Office Hour with one of our top COVID-19 experts from the newsroom.
Meet the Ottawa Citizen Newsroom
Meet Elizabeth Payne, the Ottawa Citizen's award-winning health reporter, who has been steeped in reporting on COVID-19 since the pandemic began. She was one of the first journalists in Canada to report on a 'mystery virus' emerging in Wuhan, China in 2020, and since then has written hundreds of articles on the impact of COVID. -19 on the Ottawans.
Content of the article
For an hour, Elizabeth will read your questions about the pandemic and answer them with her unique and informative perspective.
Tune in if you're curious to read Elizabeth's answers to questions like:
What lessons have we learned so far in 2022?
What are you personally doing to mitigate the risk in your own life – in terms of masking, vaccination and socializing etc.
Do we know anything about Long-COVID numbers in Ottawa?
Sign up now: go to the Comments field at the bottom of this story and ask your questions!
Please note: This discussion is not intended to answer questions about specific health issues; we are journalists, not doctors! We can discuss COVID-19 from our perspective, but we cannot offer medical advice. Please consult a physician if you have any urgent medical concerns.