Federal Industry and Science Minister Ed Husic said a domestic gas reserve and a windfall tax should be seen as ways to deal with the current gas crisis.
Husic said RN breakfast Host Patricia Karvelas was "absolutely restless" with the gas companies, and he said the government needed to send a signal that companies could no longer place the burden of the crisis on the public and the national economy.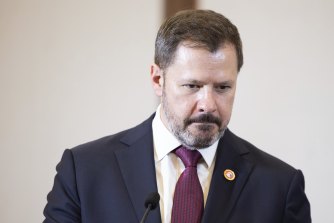 "I have a lot of sympathy for the general public view that these are Australian resources that should be made available to households," he said.
"If we ship from some of our ports seven times the level of supply used by the Australian market in a year, that's not a supply issue here. It's not a problem that we don't have gas. It is the supply that is available locally at a price that suits the industry.
Loading
Husic said the situation put pressure on companies and manufacturers, who struggled to secure contracts for more than two to three years.
"If interest rates were to go down and the banks were hanging on to it and not passing on the lower interest rates to the wider community, one of the arguments we would make is that it has an impact on the business environment for a lot of other businesses. And we would put pressure on the banks to play ball," he said.
"I think we're in the same kind of territory here with the gas companies, and I think they need to recognize the social license that's out there"
Husic said it was imperative that the government reform the "gas trigger" system to respond to price issues as well as supply shortages. He pleaded for greater involvement of states and territories in resolving the crisis.
Loading
He said gas would continue to play an important role in sustaining Australian industry in the medium term as technology was not advancing fast enough to replace the use of fossil fuels with alternative forms of energy such as short-term hydrogen.
"Being able to find other sources of gas in the interim that's going to be important…while being aware that we want to get to net zero," he said.