The officer suffered non-life-threatening injuries and was discharged from hospital on Sunday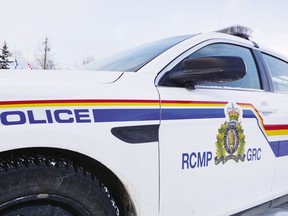 Content of the article
A Cochrane RCMP officer was taken to hospital after being struck by a drunk driver who fled from a traffic stop Friday night.
Content of the article
Cochrane RCMP were conducting a traffic stop Friday evening on Glenbow Drive in Cochrane when around 11:50 p.m. a vehicle was stopped and an officer began speaking with the driver, Cochrane RCMP said in a news release.
The driver spun to flee the roadblock and hit the policeman. A second officer had to dodge past the vehicle to avoid being hit as well.
Officers observed the vehicle enter the Sunset neighborhood and other RCMP officers from Cochrane and Stoney Nakoda searched the community. The driver was located and arrested within minutes.
Meanwhile, the officer who was hit by the vehicle was taken to hospital with non-life-threatening injuries. The officer was discharged from hospital on Sunday.
Content of the article
Cochrane RCMP have charged William Richard Kinning, 39, of Cochrane, with multiple counts including failing to stop while being pursued by police, operating a vehicle in a dangerous manner causing bodily harm, assaulting a police officer with a weapon and driving a vehicle while impaired by alcohol with a blood alcohol level over 80 mg.
Kinning was released to appear in Cochrane Provincial Court on May 31.
Cochrane RCMP are asking anyone with dash cam footage or witnesses between May 20 at 11:45 p.m. and May 21 at 12:10 a.m. to contact the RCMP at 403-851-8000 or anonymously via Crime Stoppers at 1-800-222-8477 or P3Tips.com.
sbabych@postmedia.com
Twitter: @BabychStephanie