"They are few in number but they are truly the most extreme neo-Nazis on the landscape today."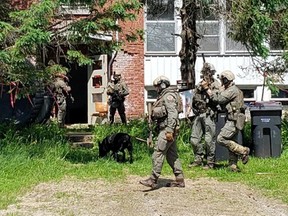 Content of the article
Heavily armed RCMP officers raided properties in two central Quebec towns on Thursday as part of an investigation into people suspected of having ties to the Atomwaffen Division, asHadowy neo-Nazi group added to Canada's list of terrorist organizations Last year.
Content of the article
The federal force provided few details except to say the raids were related to a two-year investigation into people suspected of having ties to the Atomwaffen Division.
No arrests were expected Thursday, with a spokesperson saying the tactical unit was dispatched to St-Ferdinand and Plessisville, about 200 kilometers northeast of Montreal, due to "the nature of the group."
Atomwaffen Division, a white supremacist organization, also known as AWD and National Socialist Order, has been linked to murders in the United States. One of its leaders has been permanently banned from Canada. Members idolize Adolf Hitler and Charles Manson, the cult leader and murderer.
The militarist organization "calls for acts of violence against racial, religious and ethnic groups, and informants, police and bureaucrats, to bring about the collapse of society," the federal government said.
Content of the article
"AWD has previously held boot camps, also known as hate camps, where its members receive training in hand-to-hand combat and weapons. AWD members have also committed acts of violence at public rallies," including the August 2017 (Unite the Right) rally in Charlottesville, Virginia, where a right-wing extremist drove his vehicle into a crowd and killed a 32-year-old woman. protest the rally.
Sixty RCMP officers participated in Thursday's operation, indicating "there is likely to be a large amount of digital material to recover," said Elizabeth Simons, deputy director of the Canadian Anti-Hate Network, which "monitors, denounces and thwarts hate groups".
"Everyone should be concerned about groups like this because they pose a significant threat," Simons said in an interview.
Content of the article
"They are few in number, but they are truly some of the most extreme neo-Nazis on the landscape today. They absolutely believe in mass violence to further their cause.
Simons said there was some confusion as to which group the RCMP were targeting. She said the Atomwaffen division was disbanded in 2019 after infighting. Core members banded together a year later, forming the National Socialist Order (ONS).
It is not known how many members the groups have in Canada. There have been reports of members of the Canadian Army associated with the Atomwaffen Division.
Last month, 19-year-old Seth Bertrand of Windsor, Ont., was charged with participating in or contributing to the activity of a terrorist group after the RCMP said he had filed an online request for join the AWD/NSO. At the time, police said he also "committed various hate-motivated offences".
Content of the article
"They're hyper-violent," Simons said of the AWD and ONS members.
"They believe in a tactic called accelerationism – they want to advance the collapse of civilization and society and they will do so through militant and violent means," she added. "It could mean murders, terrorist attacks, it could mean attacks on infrastructure. They believe that any chaos and violence they may commit will hasten this societal collapse.
In their propaganda material, members of the groups are depicted carrying automatic weapons and wearing skull masks and body armor.
AWD/NSO followers base their ideology on an obscure collection of essays by James Mason, who is also on Canada's Terrorist Entity List.
Neo-Nazi active since age 14, 69-year-old's writings promote "the idea that lone actors are carrying out terrorist attacks against the government of the United States in order to bring about societal collapse and a race war," the federal government says.
Content of the article
Mason's works, written in the 1980s, have been compiled into a collection titled Siege, which was digitized by a prominent neo-Nazi named Needle. The siege was the main inspiration for nuclear weapons.
In 2018, the Montreal Gazette identified Zeiger as Gabriel Sohier Chaput. The man from Rosemont—La Petite-Patrie is currently on trial, facing a charge of willfully promoting hatred against an identifiable group — the Jews — in connection with a January 2017 post on the site far-right Daily Stormer.
There have been at least two other episodes linking AWD and Quebec.
Kaleb James Cole, the alleged leader of a cell in Washington state, has been banned from Canada for life after being detained by federal officials following a flight from Quebec to British Columbia, according to reports. court documents filed in 2019.
Content of the article
A year later, US prosecutors alleged that members of the Atomwaffen Division had targeted police forces in Canada, reporting false emergencies to trigger heavily armed police operations in cities across the country, including Montreal and Quebec.
The Southern Poverty Law Center, which monitors hate groups and extremists in the United States, says AWD "tends to rejuvenate and fetishizes violence as the only vehicle for apocalyptic racial cleansing.
"Such a purge is meant to lead to a national socialist order replacing a world which, from the perspective of its members, is a dystopian, apocalyptic hellscape where only enemies of the white race profit and flourish."
ariga@postmedia.com
Warrants executed in Plessisville, St-Ferdinand as part of an RCMP terrorism investigation

Trial of Montrealer accused of fomenting hatred against Jews begins